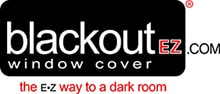 The Blackout

EZ

TM Difference!
Money Back Guarantee
100% Secure Ordering
Fast Shipping
Privacy Valued
Are you looking for a window insulation film? If so, you need to turn to our team at Blackout EZ Window Cover. We have a long history of providing multiple types of window covers and insulations that are made with the highest quality craftsmanship and materials. Our team stands behind each and every product that we sell because we believe that strongly in the superiority of our products. There are many other companies out there that offer similar products, but no other window insulation products can compete with the effective results our products provide.
We are a progressive company that is always thinking outside of the box to develop effective window covering and insulation solutions that provide real time results. Unlike other window covering providers, we believe that the needs of our customers should come before anything else. Our staff is always willing to go the extra mile to achieve the highest level of customer satisfaction and care.
Benefits of Window Insulation Film
There are tons of benefits associated with putting insulation products over the windows in your home or business. Adding window insulation products like ours is one of the easiest and most cost effective ways to lower your heating and cooling bills. Insulation film for windows can block drafts from sneaking in your home's windows, which can cause the temperature to fluctuate. Keeping a steady and even temperature in your home can easily be accomplished with insulation for your windows.
You might not think that this small weatherization technique actually provides results, but you would be surprised by how much air passes through your windows. Even with energy efficient windows, some air still leaks between the inside and outside of your home. Dark colored insulation film for windows can also help block out the UV rays of the sun, which can be harmful to people and furniture.
Reflecting the Sun's Potentially Harmful Rays
The sun's rays can beat down through your windows, which can make it hotter in your home. Sunlight that shines directly in on your furniture or carpets can cause the color of the fabric or material to fade over time. By using reflective insulation film on your windows, you can prevent sun damage and help prevent the sun from warming your home too much. Insulation for windows can come in many different forms, but film is by far the most popular option. Insulation film is easy to apply and can be done in just a few minutes, as the process is rather simple. When you purchase products from us at Blackout EZ Window Cover, you can expect fast processing and shipping times on all orders.
Money Back Guarantee on All Products From Blackout EZ Window Cover
At Blackout EZ Window Cover, we offer a money back guarantee on every product that we sell. Multiple size options are available to choose from, but each size is a different price. Our team can guide you through our inventory of products to help you find what you need at a price you can afford.
Window Insulation Film
Blackout EZ
8883752376
2100 Fairfax Rd Suite 102B
Greensboro
NC
27407
View Larger Map
We welcome your comments!